This newly renovated flat Casa Blanca with a beautiful sea view is located on the green northern side of Tenerife, between Puerto de la Cruz and La Laguna.
Welcome to the Casa Blanca holiday flat!
Due to its low-pollutant renovation and furnishing, this holiday flat is an offer for health-conscious guests and allergy sufferers. It is suitable for up to 4 people (1 bedroom and a pull-out bed in the living area).
For special offers, please see the German translation.  Ask for special rates for longer stays!




60 m2 living area

kitchen and electric cooker

UHD TV (Spanish TV + AstraSat)

bed linen and towel service


electric underfloor heating

fly screens in front of the windows
Free Wi-Fi
garden + two terraces
washing machine
60 m2 living area
kitchen and electric cooker
UHD TV (Spanish TV + AstraSat)
bed linen and towel service
walk-in shower
electric underfloor heating
fly screens in front of the windows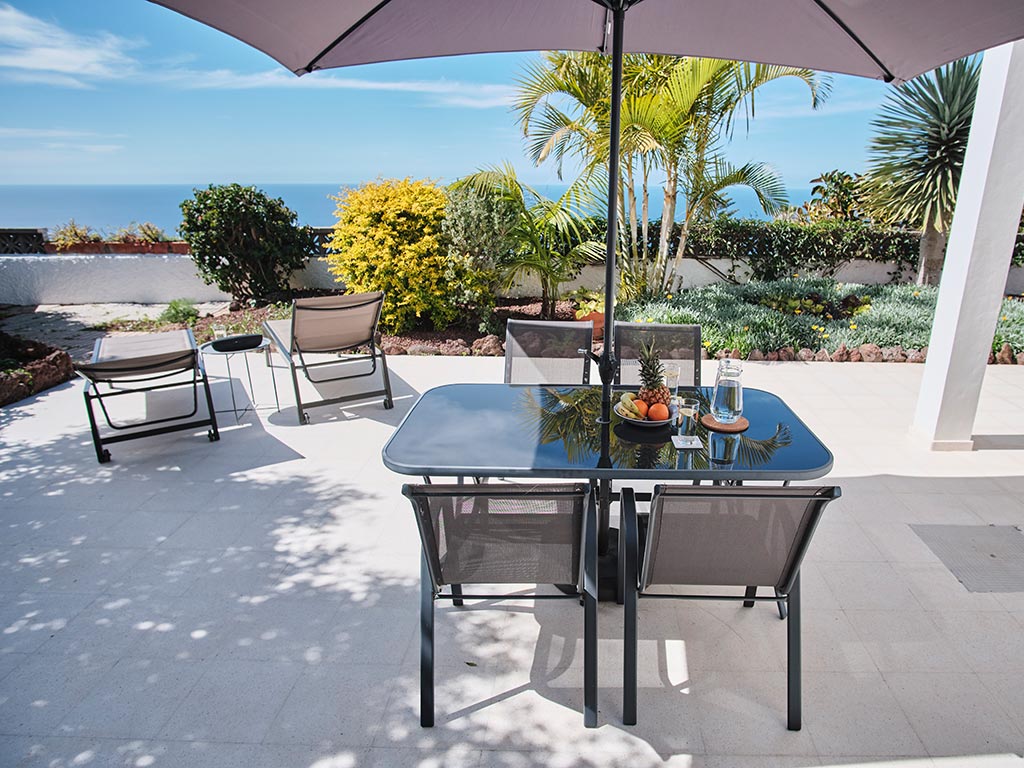 The holiday flat is located in the basement of a two-family house completely renovated in 2019. Many houses and flats on the Canary Islands have to struggle with rising damp due to a lack of damp proof course. With great effort we have managed to isolate the floors and walls against damp.
Access is via an external staircase. The flat is structurally completely separated from the upper floor. The garden and two terraces are at the sole disposal of the guests. The whole area is not accessed by anyone else. There is a washing machine in the outdoor area for the sole use of the guests.
The fully equipped flat has approx. 60 m2 of pure living space. A bedroom with 2 single beds (90 x 200, easily convertible to a double bed) and good mattresses. The living room is equipped with a brick kitchen and electric cooker, a day bed that can be extended to 160 x 200, and a UHD TV for SAT (Astra, German TV) and antenna (Spanish TV). We offer free Wi-Fi, bed linen and towel service.
Bathroom with walk-in shower. Large, new windows, and sea views all around. Electric underfloor heating in the living room and bathroom. Fly screens in bedroom and bathroom. Barred bedroom window. Hot water is solar and electric.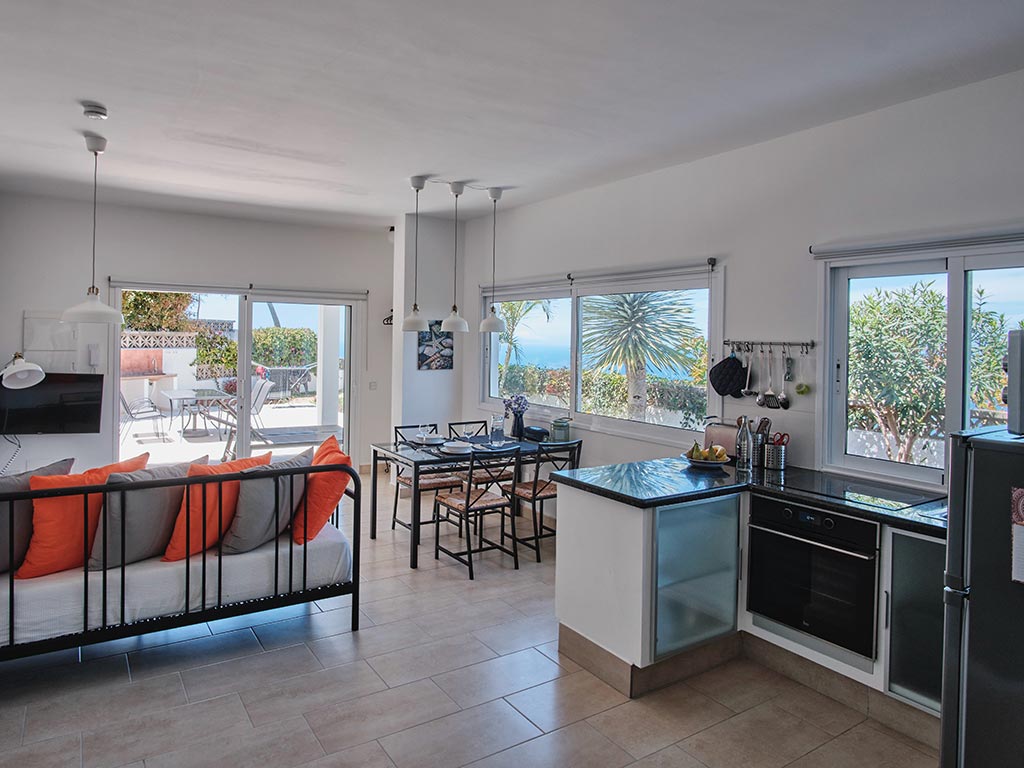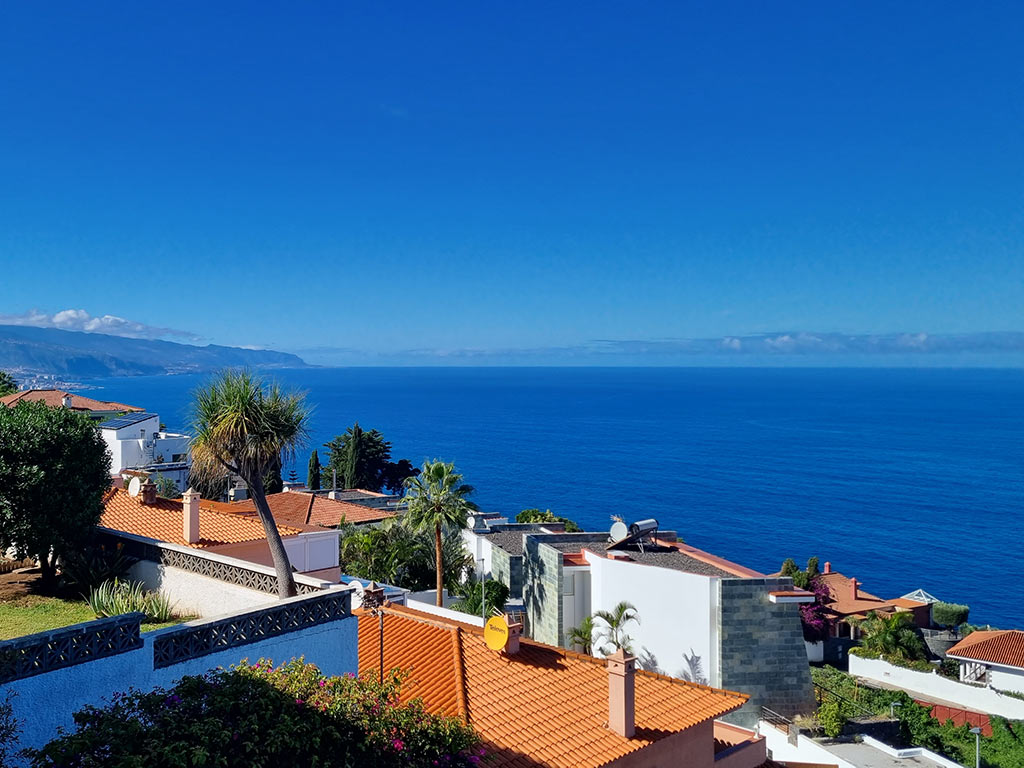 The property is smoke-free, exhaust-free, perfume-free and quietly situated. Hardly any disturbance is to be expected from the (few) neighbours. The flat on the upper floor is not used for tourism.
The flat is completely free of chipboard, varnish, paint, PVC and other harmful substances. Cleaning is fragrance-free and all textiles are washed fragrance-free. Fragrance-free cleaning agents and detergents are provided, other products may not be used in the interest of the following guests. Your personal hygiene products do not have to be fragrance-free, but guests who avoid fragrances are welcome. We are also happy to provide appropriate products.
You should still be fit enough to manage the outside stairs (one floor).  A rental car is required. These are offered cheaply on the island. We are happy to help you find a reputable provider.
The accommodation costs of the holiday flat Tenerife Casa Blanca depend on the number of persons, duration of occupancy and the season:
| | | |
| --- | --- | --- |
| | Price for the first night | Price for each further night |
| Low season | 120 € | 55 € |
| High season | 130 € | 65 € |
| Christmas/ New Year | 137 € | 72 € |
High season
Low season
Christmas/ New Year
2023
08.01.23 – 06.05.23
29.10.23 – 22.12.23
07.05.23 – 28.10.23
23.12.23 – 07.01.24
2024
08.01.24 – 03.05.24
27.10.24 – 20.12.24
04.05.24 – 26.10.24
21.12.24 – 06.01.25
2025
07.01.25 – 03.05.25
26.10.25 – 20.12.25
04.05.25 – 25.10.25
21.12.25 – 06.01.26
2026
07.01.26 – 02.05.26
01.11.26 – 18.12.26
03.05.26 – 31.10.26
19.12.26 – 06.01.27
These prices are valid for up to 2 persons. Each additional person costs 5 € extra per night.
Minimum booking days: Low and high season = 5 nights Christmas/New Year = 7 nights
The flat is very suitable for long-term holidaymakers and over-winterers. Please contact us for an individual offer. 
Departure: until 10.00 a.m., Arrival: from 4.00 p.m. (other times may be possible after consultation)
As at: 01.12.2022, subject to alterations
Contact:
Gästewohnungen Schneider & Wiese
Rosenweg 8
D-72655 Altdorf
Phone +49 (0) 176 53 97 58 30
Fax +49 (0) 7127 95 79 665
Address:
Avendia Paris 8
E-38379 La Matanza de Acentejo
(Puntillo del Sol)
Puntillo del Sol is a district of La Matanza and is situated in the green north of Tenerife between Puerto de la Cruz and La Laguna.